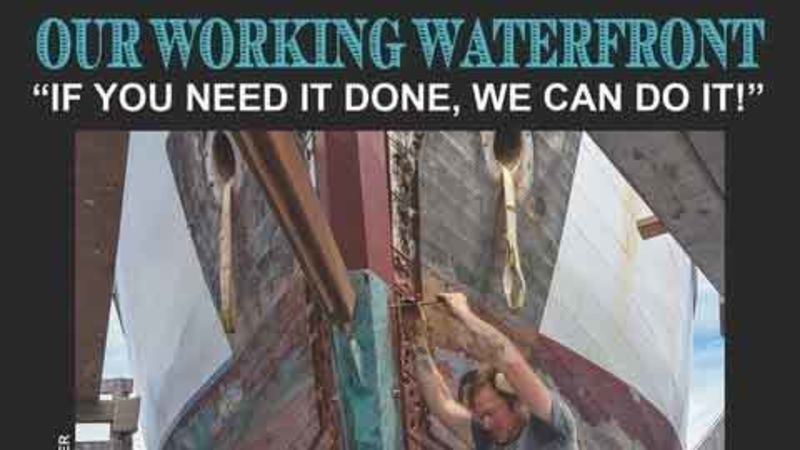 We have a unique working waterfront character and heritage—
"Four Points Marina (see photo) is what many think of as a "Working Waterfront " and "economic Development ".
It can happen right here in our own community unless we remain vigilant & active !! " Pam
The Fore Points Marina in Portland, ME is the antithesis of the working waterfront envisioned by Pam and the marine trades people of Port Townsend.
The Fore Points Marina in Portland , ME illustrates the sharp contrast between what people mean by "Working Waterfront". The Fore Pointes model is a very sanitized, affluent product of gentrification.
Part of the Strategic Plan developed by the citizens of Jefferson county , embraces a true working waterfront:
The current STRENGTHS of the Port of Port Townsend include the following: • Boat Haven Facility: o Supports a blue-collar maritime tradition o Is a working boat yard o Is a publicly accessible boat yard, where owners are able to work on own vessels, adding to the vitality of the facility and community o Travel lifts facilitate maritime industry • Traditional Maritime Culture: o Port Townsend has retained its character as a working waterfront town o Community supports a diverse and experienced marines trades workforce o Local marine trades craftsmen enjoy a reputation for excellence o Maritime educational nonprofit organizations support traditional maritime culture o Local maritime industry holds an historic niche/brand, providing a secure market share (i.e., traditional maritime trades, like sail making and wooden boat building) o Wooden Boat Festival helps to maintain/strengthen traditional maritime culture • Attractive & Unique Location: o Port properties lie at the "heart" of the community and significantly define its character as a working waterfront town o Boat Haven and Point Hudson properties anchor Port Townsend's waterfront and tie it together with the historic Downtown o Port facilities are well located—for both boaters and marine trades—proximity of the boat yard to the marina is advantageous o Position on north Puget Sound is excellent for recreational boating, and recreational and commercial fishing.
Compare the marine trades men and women standing next to the Pacific Grace from Victoria with the image of the Fore Points Marina and the images of the Boat Haven and Point Hudson.
The difference between the Fore Points "working waterfront" and Port of Port Townsend working waterfront are obvious from the photos. A working waterfront has boat projects present, marine trades people present and pride in the long tradition of the marine trades in this small community.
We have a unique working waterfront character and heritage—
"THE PORT'S MISSION STATEMENT OF 2010 WAS A LOCAL EFFORT TO PROVIDE THAT SUPPORT. CRAFTED BY AN 18-MEMBER CITIZENS' PANEL OVER A PERIOD OF MONTHS, IT REDEFINED THE OLD "ECONOMIC DEVELOPMENT" MISSION STATEMENT TO INCLUDE THE CONCERNS OF THE COMMUNITY. THESE INCLUDED ACCESS TO OUR BAY AND PRESERVING OUR MARITIME HERITAGE (WELCOME TO THE VICTORIAN SEAPORT). IT ALSO PROVIDED A DECISION-MAKING MODEL CALLED THE "TRIPLE BOTTOM LINE." -- BERTRAM LEVY