Meet Pam
I'm Pam Petranek, your Port Commissioner and Chair, District 1, elected 1st term 2020-23, & running for a 2nd term 2024-27.
For my oath of office in January 2020; I placed my hand on 2 inspirational books. The first book, On Tyranny, by historian Timothy Snyder, is a short guide to 20 lessons for citizens to defend democracy; how people's choices do have power to shape our future, & how we must step up or we will see democracy disappear.
The second book, Pirate Queen: The Legend of Grace O'Malley, by Tony Lee, retells the true story of her leadership to protect the friends, family and country that she loved, as Ireland underwent tremendous social and political upheaval during the 16th century.
During the past 4 years of my leadership as your port commissioner, I have created positive connections on many levels, 3 examples:
1. DIRECTION: The year I started as your port commissioner there had been 3 port directors in the past 3 years, and I helped lead the process and direction for hiring our new executive director, Eron Berg, who embraces the values and culture of our marine trades and community.
2. BUSINESS: I have co-led an economic impact study for the marine trades of Jefferson County which documents this sector representing 20% of the living wage jobs, paying annual tax revenues of approximately 6 million to our county & additional 6 million to our state. This study has been foundational in securing millions of dollars of state & federal funding for critical port infrastructure. This study has also funded maritime education through the NWMC and NWSWB. Now, 4 years later, I am co-leading an update of this invaluable study.
3. COMMUNITY: I represent and listen to YOU, my fellow citizens of JC. I advocate for citizen & port communications that are informative, transparent, and respectful. I have led citizen advisory groups before & during being elected.
I co-lead our 4 jurisdictions--port, city, county, and PUD--16 elected's & 4 directors, to communicate regularly on issues of mutual importance.
I reach out and personally meet with our state representatives to communicate port projects, community values, and seek funding sources.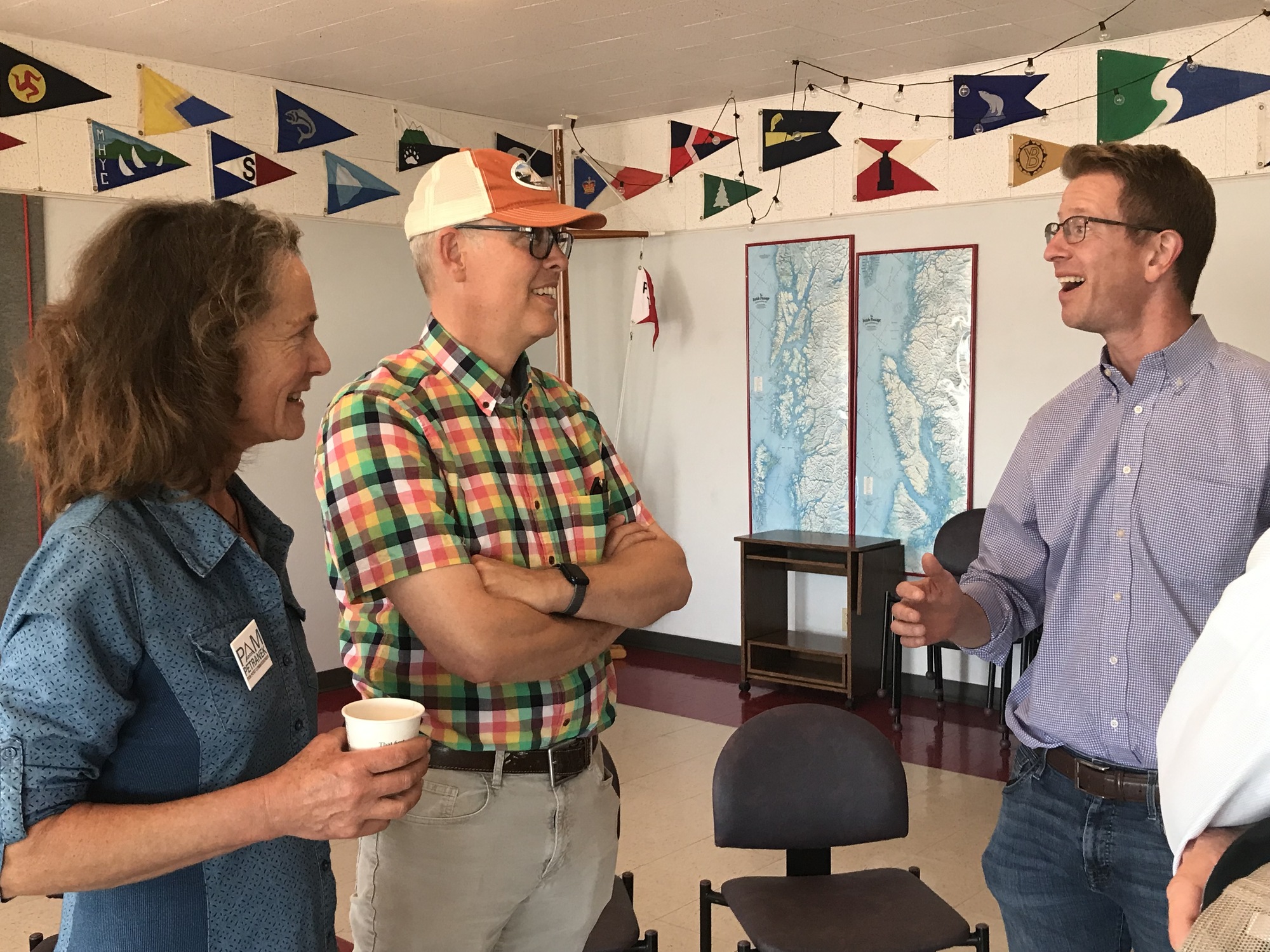 August 11, 2023, Port Commissioner Pam with Port Director Eron Berg & Congressman Derek Kilmer, discussing funding for fixing the Boat Haven Breakwater
Other Experience:
I'm a life-long Washingtonian, almost 20-year Jefferson County resident, and mother of three young adults. I've been a public & homeschool teacher, and maritime business owner. I am currently a commercial fisherman & farmer's market vendor.
Education:
B.S. Education, Western Washington University
U.S. Captain's License (USGC)